Some of you have been begging me for details, and while
I have my own feelings on marriage
, I am going to indulge you w/ the gooiness: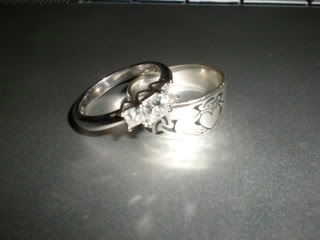 The ring that the Guy and I picked out together, and the Clauddagh that I usually wear, but is currently eating holes in my finger.
The Guy came to my place of employment and handed this to my friend Hoku, and asked hir to hand it to me for him.  Of course I said "yes".  We decided this together.  The point was that he surprised me by coming to work and doing it instead of how I suspected he would do it.  I started to get a little choked up, but then the Armored Guard came to pick up our deposit and I had to go open the safe for him, so I politely excused myself, which Hoku and Tiare found amusing (this also made my boss gush a little when we told her the story).
We went to dinner that night, and even though we discussed it w/ the Kid ahead of time, we told her that it was official.
You really can't take a good picture of it.  It's too shiny.
And she was pretty happy.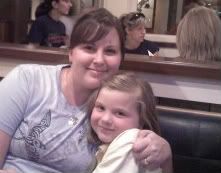 After all, we are pretty close.
There is some saying about nuts and trees, no?
And anyways, who wouldn't love this man?
No no, he's happy.  This is his "you love me and you know it" face.
So there ya go!
We are going to get married on 14 June of this year.  No, we won't tell you where.  It's going to be small and private and well hidden.  But, fear not, there will be pictures, that's for sure.
And thus the Engagement Story is pau.
Malama Pono!