Since taking down the old "Island Life" site from the .mac host I have struggled w/ whether or not to do a family life focused blog.  There were a lot of issues w/ the old blog...but I really loved logging in and seeing the comments from the fam all over creation.
So, I opted for a format where I will have a little more control over what actually goes on on my blog.  For now I will use the Blogger comments, but I will be upgrading to Haloscan very soon...mostly for their yummy editing abilities.
I also wanted to continue to have a space where people could catch up w/ us and see what's going on.  We have a lot of friends and family spread all over the place, from the Windward side of this island (Hi Auntie and Uncle!  *waves*), to the Gunters out in Utah, and Kimmers up in Canukistan, so I want one place for all of them to catch up w/ all of us.
And I have chosen "Blessed and Cursed and Won".  That is a description of our life right now (and for certain people reading this, they will get it).
Our lives are in a great place here.  The Kid, the Guy and I are living life and getting the most from it.  The family we have here has made us stronger, and we are so grateful to have them here as we stand at the giant edge of the Great to Come.
I won't post here nearly as often as I did at the old place.  My primary blog focus is still going to be my main site, and I am working on contributing for the
Privilege Project
b/c I believe in it's importance.
Also new is the
Comment Policy
, which I strongly advise you read before posting here.
Thanks to those of you who are coming back.  We have missed you, and I hope this turns out better than the last time.
I have also invited someone to write here w/ me.  I hope she will consider it, even if she only posts occasionally.  If she does, I will let her introduce herself.  
Until next time, Malama Pono.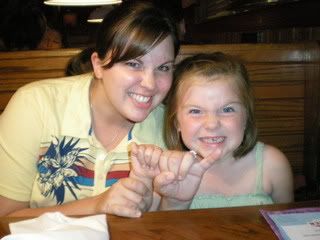 At our celebratory dinner, showing that we do, indeed, have too much rock for one hand.