Today was extra fun,
after spending yesterday at the hospital w/ The Other David for his surgery
. I helped one of the class moms make caramel apples w/ the whole elementary school (which is really only about 45 people).
The hardest part of making caramel apples is finding the caramel pieces to melt.  They are really hard to find here!  In the grocery store there is a display of baking needs for fall, under a picture of caramel apples, but no caramel pieces!  When I asked about them, the stock boy told me that it really isn't the right time of year for them.  Really?  I didn't realize there was a growing season for caramel pieces...and if not Halloween for candy apples, then when?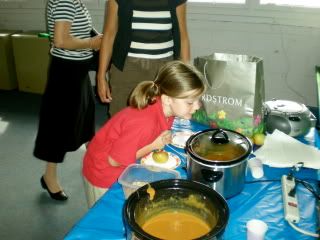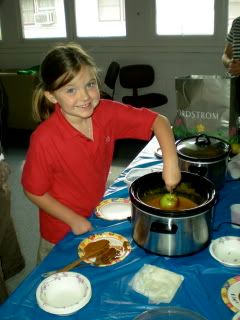 After The Kid made one for herself, she asked to make one for me!  How could I possibly turn that down?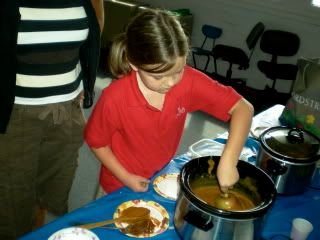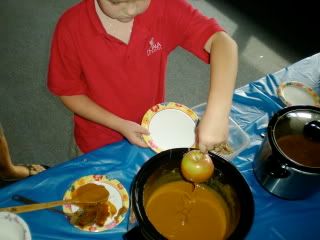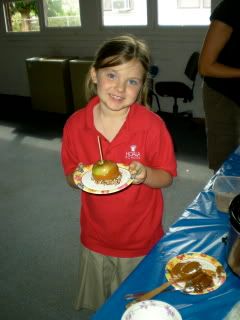 She even put nuts on mine for me!  Yum!
Caramel Apples:
You will need
1 package Kraft or similar caramel pieces
2 T water
A slow cooker or double boiler
Plenty of apples (I like the Fuji ones best for these)
crushed pecans (optional)
popsicle sticks or chopsticks for handles.
Add all the pieces and the water to the top pot of double boiler or to the slow cooker.  Stir often to help it melt along.  Once it is smooth and creamy it is ready (if you are using a slow cooker this could take a while, so start well ahead of time).
Push a popsicle stick or chopstick well into the apple.  Dip the apple about 3/4 of the way into the caramel.  When you pull it out swirl it around a little to catch the dangling line of caramel.  Be careful b/c slow cookers are extremely hot and the caramel is molten, so it will stick to skin and prolong a burn.
After dipping and swirling, roll it generously in the chopped pecans.  Set it on a plate or wax paper (or muffin wrappers for giving away) and allow to cool at least an hour.
Enjoy!