Picture day was last Wednesday.  The Kid usually asks me to roll her hair for special things like picture day and Birthdays, so after the PTSO meeting on Tuesday I raced home to do so.  She really has more hair that she appears to.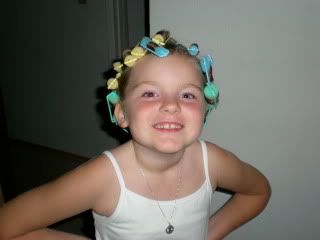 She gets a big kick out of having curlers in her hair.  She always wants her picture taken w/ her hair rolled.  Weirdo.  ;)
I have also been begging her to part w/ those pajama pants, but I don't think they are going any where anytime soon, not so long as she can get them on.
Since she loves having her picture taken w/ her hair rolled, and b/c I am such a silly mommy, I took one more picture of her.
Even w/ as good as this picture turned out, you still can't see her drooling.  I showed her the picture after I woke her up...and she thought it was so hilarious.  We really are special together!
So we should have the pics back b/f long.
You didn't think I was going to post her actual school picture, did you?  :P