S had her birthday party last week, and yesterday was her party at the Ice Palace.
I am old enough to say "I haven't done that in over 20 years!"
The Kid started out w/ the little support things that they have for beginner skaters, even though this wasn't her first time.  She likes to ease into these things on her own.  But she was totally having fun!
Her friends were having fun w/ her too.  A was trying to coax her out onto the main rink w/o the supporter.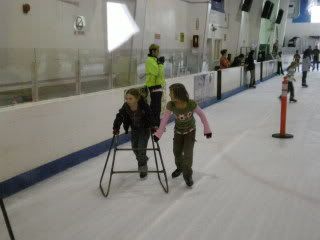 Speaking of being coaxed onto the ice, another family had left over adult skate rental tickets, and S's mom gave them to us b/c she insisted there was no way she was going onto the ice.  We got some skates, and decided to give it a try.  After all, I guess we had best be reacquainting ourselves w/ ice, huh?
It didn't turn out clearly on the pic, but we could see our breath.  Brr!
After we got out on the ice and made half a lap my lace broke on my right skate.  I didn't fall, but I sure couldn't walk myself to the counter to replace it.  The Guy had to go exchange it for me.  After that we were on our way.
I am not so good at ice skating.  But I got better.  And, Kid joined us on the main rink, first holding (clinging) to The Guy's hand, and eventually on her own.  She did so well, getting back up every time she fell...even when she took a good dive and landed face down.  She said it hurt, but didn't want any help off of the ice.  She did about another lap and exited.  I checked her knee, and she was fine and ready to go again...but they brought out the Zamboni and it was almost time for us to leave anyhow.  Since I had my bag locked up I didn't get any pics of her skating alone.  ;(  Maybe next time.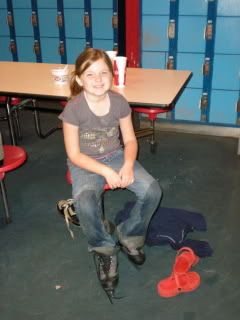 Kid has asked to go back again soon, so we are going to take her and A back next weekend as long as her homework gets finished all week.
We went w/ a couple of the girls and one of their dads to get a late lunch afterward.  S's mom had made a ton of local plate food for the party, but we were still hungry after all the skating!  FTR, I got a lot better, but I don't think my legs and feet can handle too much at once (as indicated by my sore and stiff joints today).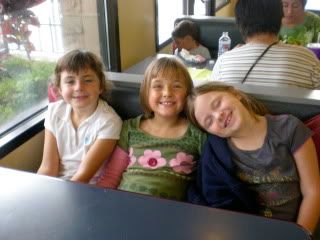 Oh, and she also fell asleep around 7.  Guess she wore herself out!