The Surf's Up Edition!
Today we got our happy selves up at the hours unheard of on a Sunday and packed the car up for the beach.  We seem to be getting into the rainy season here, so when it looks like the weather will hold we had best enjoy it!
We invited our friend's son, T, w/ whom The Kid plays well (b/c well, she is a girl who knows and loves
Star Wars
, so that makes her worth the cooties risk!) to come w/ us.
After we picked up T we went to Jamba Juice to break our fast w/ some great breakfast cups (PB& Jamba!  Yum!).  Sadly, T is a bit of a picky eater, so his Chunky Strawberry was given to the homeless man by the highway entrance (and he was extremely grateful!).
We hit Bellows just b/f the crowd arrived, which is nice b/c the beaches here can get pretty crowded pretty quickly.  While it was raining on the Leeward side the skies were blue as could be on the Windward side.  The water was so beautiful I couldn't wait to jump in, except that it was rather cold, so it took some coaxing.  In the meantime, I managed to take over 160 pictures of all the kids playing in the surf.
The kids chased one another around for a bit.  And eventually had a water war w/ The Guy.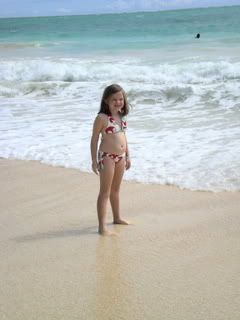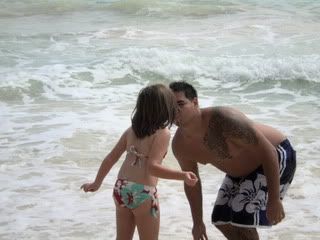 It was just a ploy to catch her off guard for some splashing!
T had his own splashing strategy!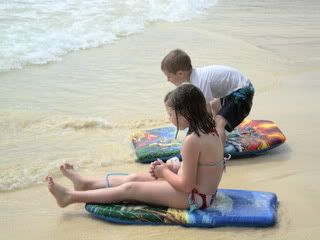 They sat waiting for the waves to get them.
And T kept telling the waves they would "never take [him] alive"  HA!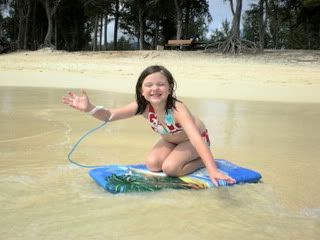 Bathing Beauty.
Eventually The Kid was coaxed into learning how to properly use a boogie board.  This is the absolute bravest we have ever seen her in the water.  It only took her a couple of tries to get the hang of it.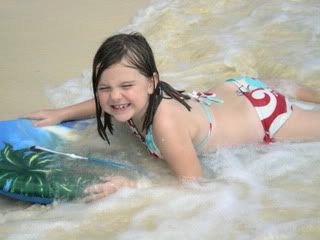 I swear I heard her say "Cowabunga" more than one time.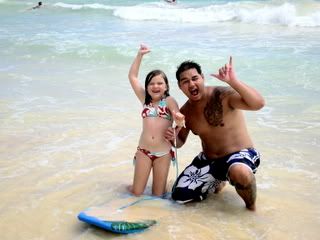 She had a most patient instructor!
Surf's up!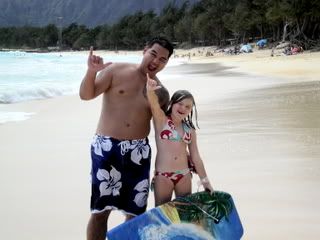 Throwin' the shaka!  
Some nearby kids built a sandman.  Lolz!  You may be able to guess where you might be seeing him again!  HA!
After a potty break T and The Guy decided first to make The Kid into a mermaid...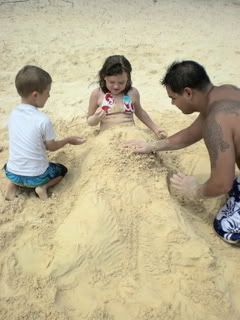 and eventually wound up burying her!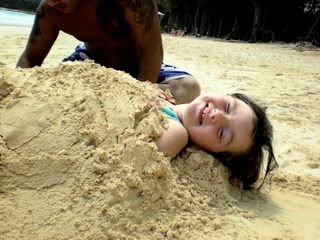 Not that she complained!
Then there was time for another wave b/f we had to dry off.
T requested some time on the playground for drying off, and we obliged...
and all of the kids played hard.
He was an intruder in their castle and they had to defend it!
I sure do love that man!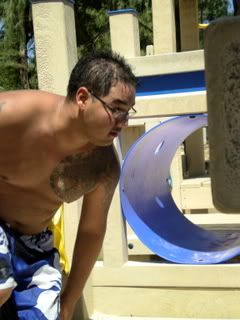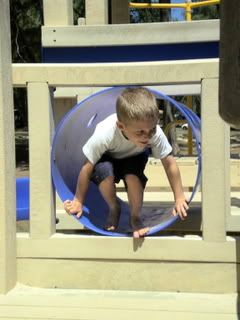 They always seemed to just miss him!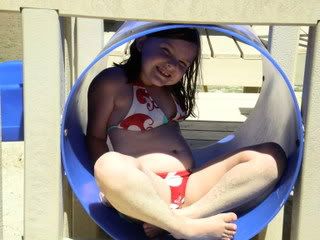 We had a really fun day (and a lot of sun!).  We headed for home around 1, and the kids (the younger ones) fell asleep on the ride home after we filled their bellies w/ sandwiches and lots of water!  It was such a fun time.  We hope to have a few more fun beach days in the near future!
Until next time!
Malama Pono!