I know it will be hard to resist when faced w/
TEH CUTEST NEPHEWS EVAH!!!1!!ELEVENTYONE!!1!
I finally got some good quality cuddle and snorgle time w/ Alekzander and Deacon!  *SQUEE*
Meet Alek.  Snug as a bug in Nana's arms!
This is Deacon, w/ my brother, AKA the Proud Daddy!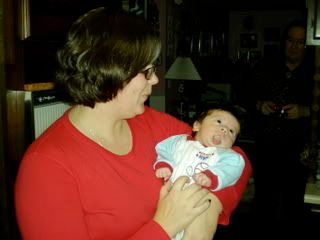 The best Auntie in the Whole Multiverse w/ Alek.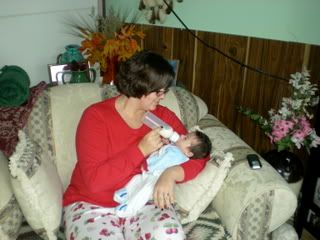 In case you didn't know, I was referring to me!  NOM NOM NOM!
And, BTW...did I mention...
...THERE ARE TWO OF THEM!!!1!  Oh how I was overwhelmed w/ Teh Cuteness!  How could I be bothered to get out of my pajamas in the presence of all that cuteness.  Every time I thought about doing anything else I was thwarted by Teh Cuteness!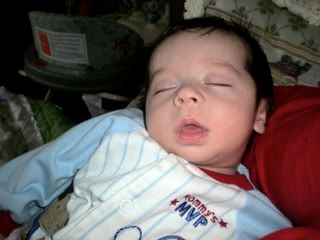 W/ his eyes closed like that, Deacon is the spitting image of my father.  *sniffle*  Alek looks very much like my brother did as a baby.
Do not snorgle your screen too hard!
Here is The Guy pretending that he is upset w/ me for handing that cute bundle off to him for a moment (sometimes babies are a bit heavy for my fibro ridden body),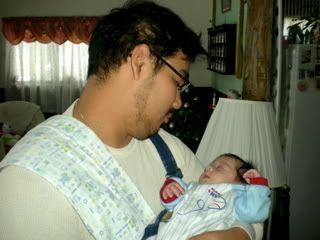 But even he can not defend himself against all that cuteness!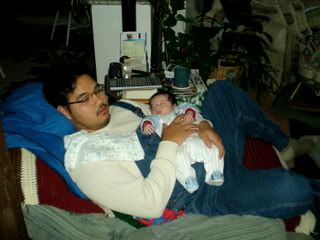 He and Deacon fast became nap buddies!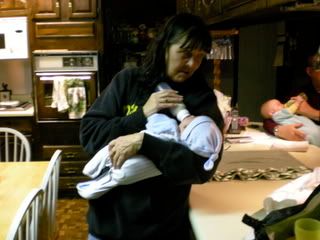 A happy grandma feeding a very hungry baby!
Hey!  The Guy!  What are you feeding my little cousin there?
There is a long standing history of babies and ice cream lovin' in our family.  Nathaniel is not the first one to indulge so young!  It is a super power of tolerance encoded in our DNA!
After wiping off your screens, I return you to your regular internet surfing.