After we left Des Moines we headed to Michigan to visit my side of the family.  Our first stop was Ypsilanti, where we had a rendezvous w/ VBFitU and GiHL.  One of the first stops on the never been to Ypsi tour was, of course, Abe's Coney Island.  If it was good enough for Bill Clinton, it is good enough for us!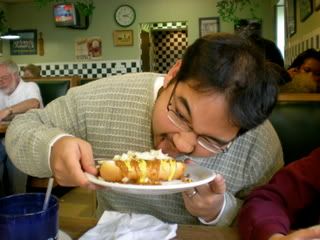 Kid and Guy enjoying their first Abe's Coney dogs.  Admittedly, The Kid didn't have nearly as much stuff on hers.  Baby steps.
After a bit of an ordeal w/ our rental car, we were off to Indiana, where we stopped to see my mom.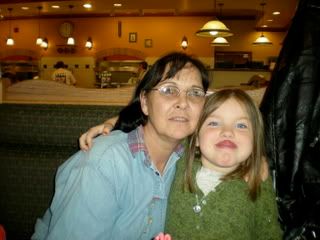 We took them all to the Auburn Cord museum.  The Kid really enjoyed all of the classic cars.
We didn't have nearly as much time in Indiana as we wanted, but we did get to catch up w/ some people that I really needed to see.
Once back in Michigan, we spent some time in Ann Arbor, which I love.
We found this awesome gaming place on Liberty where The Guy and I got our WoW on for two days straight.  We took The Kid to her Auntie's in Wixom for a few days so she could spend some time w/ her b/f we left.  This gave us time to hit up this gaming place and get our total geek on.
Your parents' basement was never this cool, that's for sure.
I also was able to introduce The Guy to another Ann Arbor classic:  
Pizza House
.
Stuffed pizza FTW!
We also made some time for a great home cooked meal w/ VBFitU and GiHL.
He makes arguably the best stir fry in the States.
Then we went off to Crazy Wisdom for books and tea.  This is a long standing tradition w/ VBFitU and I for all the years we have lived apart, but this is the first time we have ever had guys in our lives who were interested in sharing it w/ us.  I can't tell you how much that means.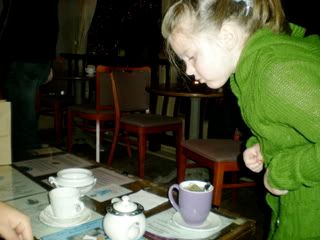 It's just about done, I'd say!
Next installments will be from da UP!  I know Pido and Cecilia have been waiting for these ones!