St. Louis!
We took The Kid down to see her father in Missouri, and while she was there The Guy and I toured around the area for a while.  
Of course we went to the iconic Arch, or Expansion Memorial, which I think is slang for "conquered and lied to all your Natives"...but I digress.
While I will say that the structure is pretty impressive from the outside (how could it not be?), 
I do have to say that I find it to be one of the most over rated monuments I have ever been to (though the Washington Monument was closed the day I was there).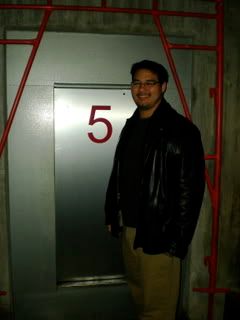 You start out by getting into these "futuristic" capsules through the tiniest doors imaginable and sit on the smallest chairs in the most tight of enclosed spaces.  I am not a small woman, but neither am I the largest person I know, and I was incredibly uncomfortable inside.  The tram was also very rough riding up, and you are in this enclosed space for nearly four minutes.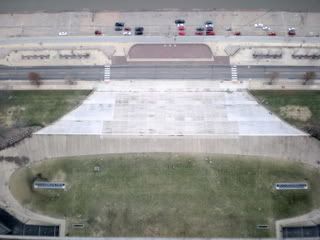 The view was kind of neat...
...and when I tell the story there will be someone making out in that car way down there...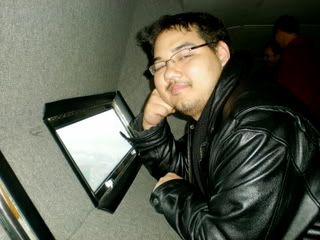 ...but you get six hundred and some feet up and these are the ridiculous windows you have to look through..and you have to lean in across a big ol' ledge to see out of them.  It is so full of people up there that I was kind of freaked out, and very uncomfortable.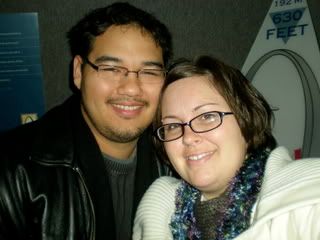 The Guy tried to distract me w/ some lovey doveiness...
...and I think his efforts were effective.
We had way more fun in the gift shop.
The Guy in his pretty floral bonnet...
...and me being silly.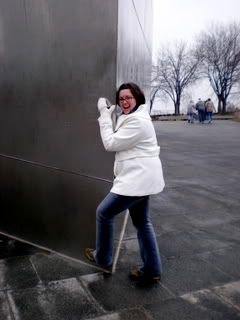 Of course...we had to...erm...hug the monument.
Yes...we love the monument.
So, yeah...pretty impressive outside...just stay outside.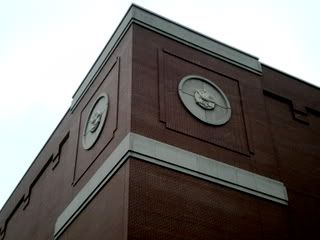 We actually had fun at Pido's Mecca...also known as the Anheuser-Busch Brewery.
Full of lots of fun things...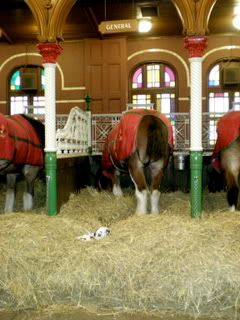 The business end of some beautiful Clydesdales...the largest heard.
The barn has a giant chandelier that looks like it is make from hops.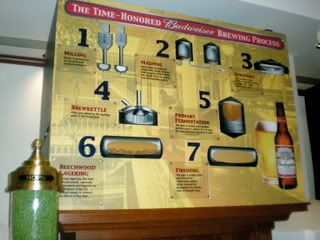 They taught us all about how to make Budweiser.  If you are from the Midwest, congratulations!  You are the #1 consumer of beer ever!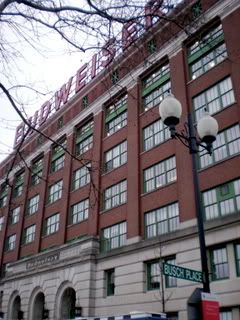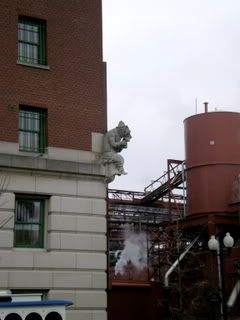 After the tour they gave us Free Beer!  I don't really ever drink domestic beer but even I can't sneeze at Free Beer!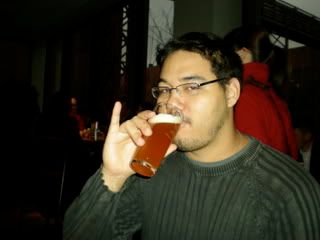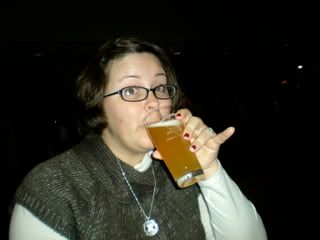 Lastly, I thought this door was pretty funny.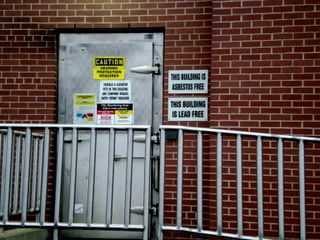 Well...I certainly hope so!