The Dole Pineapple Plantation Edition!
Saturday The Guy and I went out to dinner in Hale'iwa, and then went to the Dole Pineapple Plantation.  They have one of the
World's Largest Mazes
(Guinness Book of World Records in 2001).
It was a lot of fun.  I honestly can not believe we have lived here for three years and have never "done the maze".  We always go for the
Dole Whip
, and are always too late for the maze.
Here is The Guy stuck in the middle of the pineapple at the maze's start.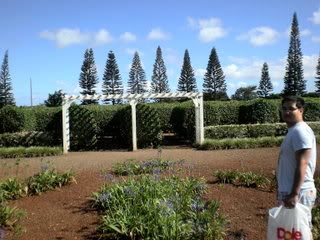 You start out in the center, and you get a ticket which they stamp at the beginning of your visit, and then you have to find eight secret stations hidden in the maze.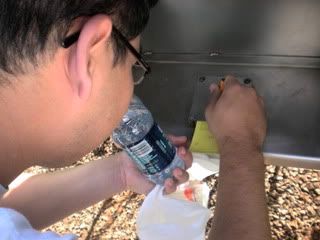 You stick your card in a little slot and use your pencil to stencil the shape onto your ticket.
We wound up competing to see who could find more stations.  One of us would start leading, and when we hit a dead end the other one would start (after the current leader said "Darn!" in that totally disappointed tone.  It was totally fun.  I am surprised that I am so good at mazes, but it turns out that while I am unable to drive directly to a beach w/o asking The Guy which way to turn I am some kind of savant w/ mazes!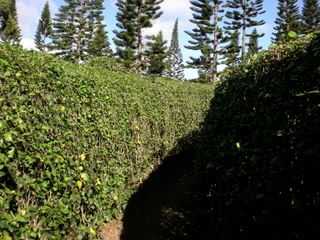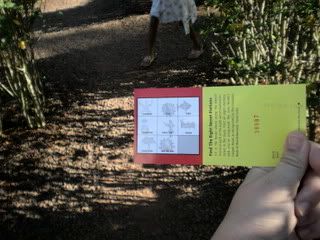 In the end we tied, even though depending on who you ask, the finder of the pineapple station is still up for discussion.
Or not.
It took us one hour and six minutes.  Not bad if you ask me, and I can not believe that some people can do this in five minutes!  There are prizes and notoriety to be had for those who find all eight stations the fastest everyday.  There are also maps available if you are a big cheater head.
Afterward we went inside to finally have our Dole Whip, and this time we got a float.  Yum!
But you had best share!  It is a lot!  And I hope you don't have to stand in line w/ people who argue over whether poi is pink or purple.  That is a testament to my patience.
M-m-m-m-m!  Dole Whip!
Something I always forget about are the peacocks out here.  Probably on purpose.  You see, peacocks are very really really beautiful, but really really mean.  Like Diana Ross (10,000 arbitrary 'You Rock' points for that one).  The Guy remembers them as the damned screeching banshees that used to wake him up back when he lived in the barracks in Wahiawa.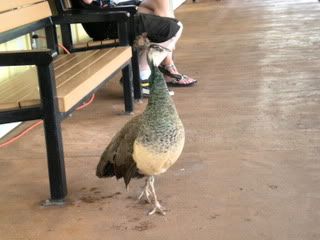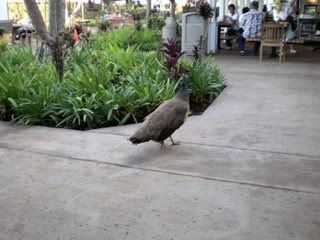 At the end of the day, we were really tired, and a little bit dirty.  Should you come to Hawai'i you must check out the Plantation and the maze.  But you should wear shoes, not yo slippas.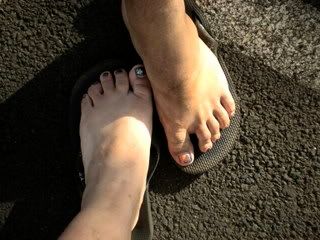 Malama Pono!