Tonight we decided after spending the day doing wedding errands that we would take the Kid to the Hawai'i Fair.  I suppose I don't need to elaborate on how this fair is different from the ones we are used to on the Mainland, but I bet you can't get Kahlua Pig at fairs on the Mainland.  YUM!
Not at all surprisingly the Kid is plenty tall enough to ride most any ride she wanted to, and a little surprisingly she wanted to ride some pretty fun ones.  We started off w/ the hang glider ride, which we eventually rode twice, but she screamed and laughed her head off on her very first fair ride ever.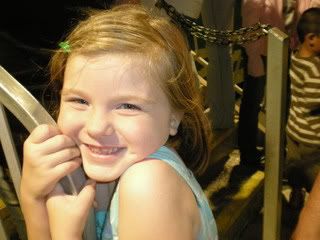 In line for her first ride.
We went on the Tilt O Whirl next, which was a blast, and then on to one of my favorites, the Pirate Ship.  While she said she had fun, I don't think she enjoyed it as much as she thought she would.  She did manage to laugh and scream, but she wasn't willing to ride it again.  She did, however, ask to ride the Fire Ball (which I remember as the Ring of Fire, and goes in a loop, holding you upside down for some time...I used to ride that w/ my friend Jason and we would pretend we were going to throw up to scare everyone else on the ride.  LOLZ!), and when we were waiting for our turn the Guy gave her one last chance to back out, which she accepted.
Hey, Kid, tell us how you really felt about the Fire Ball.
Next we went to the Ferris Wheel, which was a nice relaxing ride for me.  My riding days are different now that pain is a constant issue.  It was really pretty to see all the fair lights from the top.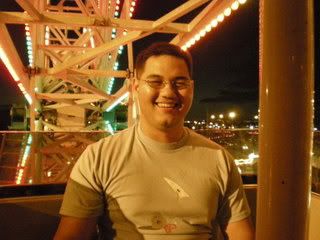 The Guy on the Ferris Wheel.
The best shot of the Kid and I on the Ferris Wheel.
We went on one roller coaster, the Hang Gliders again, and the Kid ran through the Fun House, chased by the Guy.  Yay!  We also went on a kiddie ride similar to the Tilt O Whirl which has a wheel that allows you to spin the car as fast as you want (video below, w/ Motion Sickness warning).
I remember how much fun it was when I was younger to run around and ride rides until they made you leave for the night.  Oh, to have that energy (and pain free body) again!  But overall we had one of the Best Times in Recorded History, especially after the Guy got his funnel cake, the Kid had some cotton candy, and I partook of a caramel apple.  After we were all sugared up we headed for home.
We are trying to think of some fun activities when my Co-Blogger *coughslacker* (VBFitU) and co. get here in TEN FREAKIN DAYS.  We are thinking of seeing if we can afford Hawai'ian Waters the day after the wedding.  Or Sea Life Park (which has a Lu'au) but we will have to see.
That is all for now.
Malama Pono!