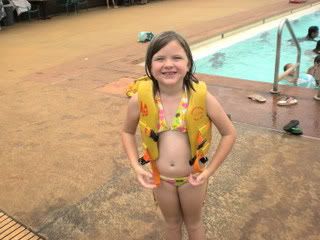 I secretly hate her for being so damned cute in that bathing suit.  Bad Mommy!  ;)
The Kid's class went on a field trip to the pool at Schofield Barracks for a fun filled day of swimming.  The Kid is getting braver in the water, especially when she has a life jacket for confidence.  I was only able to spend a short time there w/ them that day, but I did manage to get some good pictures.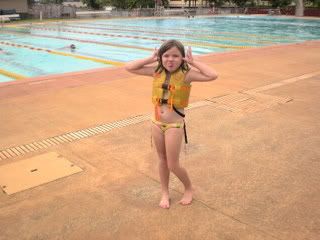 A funny story that she did take the spray on sunscreen that we keep for her, and she remembered to put it on.  What she didn't remember was to ask someone to put some on her back.  She has a nice, as Z would call it, "Healthy Day Glow" all down her back from this trip.
Oops.
Live and learn.  Luckily it doesn't seem to be causing her too much pain, and she is really liking being slathered in Aloe w/ Lidocaine for it.  She has been taking it to school, and doesn't forget to ask someone to put it on her back.