This past week the 3rd through 8th graders at The Kid's school went away to camp, so the Pre-K through 2 had full run of the lower campus (which is only usually K-5).  The teachers thought it would be fun for them to have their very own camp, so on Friday all the kids were allowed to wear their pajamas to school for camping activites.  These are the days that make the volunteering I do extra fun (even I wore pajamas and put rollers in my hair).
They had lots of fun activities like an obstacle course and a scavenger hunt.  Then, after lunch they got to bring their sleeping bags/pillows/blankets to the multipurpose after school care room where one of the junior high students had turned a fan into a campfire!  The kids made a circle around it and settled in for some campfire songs!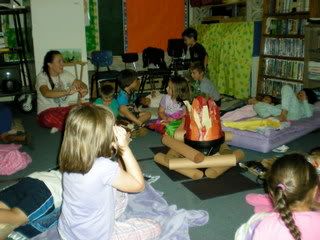 And, of course, there were s'mores.  Well, they got to pretend roast marshmallows over the pretend fire.
Pretend roasted s'mores, as it turns out, are not as easy to build as real ones, but still yummy!
It was a lot of fun, but I will tell you that all that sugar, w/ hot chocolate and 20+ students b/t the ages of 4 and 8 is not exactly a recipe for cleanliness.  I just can't say enough how amazing the teachers are at this school, especially the kindergarten teacher who put together all the activities!  She even went out to the camp to teach one evening and came back w/ some of the same activities for these kids.  I like the idea of doing something special since they aren't old enough to actually go to camp yet.  Don't be fooled, however.  The Pre-K through 2 kids were just as exhausted as the older kids returning were.  HA!