The Kid likes to join me in my creative endeavors.  Usually it is just her doing her own thing w/ all of the scrapping stuff I have strewn about.  Yesterday I was working on my Halloween cards, and she wanted to make some too.  I love it when she makes things w/ me.  We have never had a shortage of arts and crafts stuff to do together.  She usually likes to draw pictures and use the stickers and ribbons and flowers in the pictures, but after watching me make a few cards she wanted to learn how make cards the way I was making them.  I love teaching her new things but I usually wait for her to ask, b/c that usually means she is willing to learn them.
The Kid can now: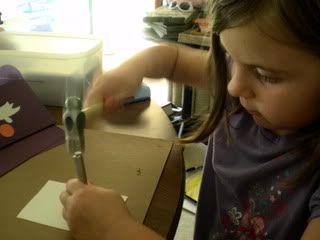 Set her own eyelets,
and thread her own ribbon through them.
Distress paper.
Oh, yeah, and she is now also addicted to chalks.
Her finished card turned out really cute, so stand by, it may be coming to a mailbox near you!