French Onion Soup-- Guinness Tribute Edition* (the stout, not Alec, although he rocks too!)
You will need:
½ lb of butter**
About 5 lbs of sweet onions (I used Maui Sweets)
3 smashed cloves of garlic (more or less to taste) or 3T of already minced.
2 bay leaves
1 gallon of water and beef base, or the same of beef consume or broth works fine**
1 14 oz draught can or 1½ draught bottles of Guinness (plus extra to keep the cook happy!)
1 large loaf of French Bread
Gruyere or Fontina Cheese
Salt and Pepper to taste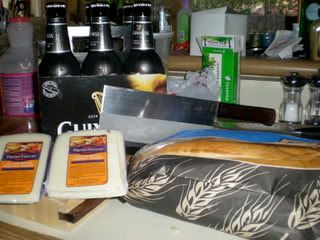 Melt the butter in a large pot (seriously, at least a three gallon guy) and simmer the garlic.
Slice the ends off of the onions and cut in half length wise. Slice in to course pieces.
Add onions to pot, reduce heat to med lo, and mix well. Sweat the onions for at least 45 minutes (you can not rush this!) until they are reduced to about ¼.
Add the Guinness (you didn't drink it all, right?) to the onion reduction and simmer w/ the lid off for about half an hour (you can not rush this!)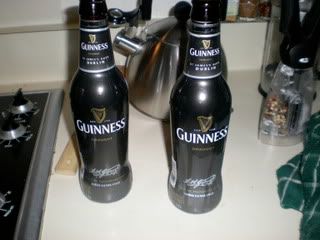 (you should be salting and peppering at every step, really)
When the liquid has reduced by about half again add one gallon of cold water (if using broth add that now) and bring to a boil. When the water is boiling add the beef base (about 1t to each cup of water) and simmer for about 10 minutes.
If you are like me and you do not have the proper bowls for placing under a broiler you can simply grate the cheese into the bowls on top of the soup. If you have good earthenware bowls or ramekins ladle in the soup, add a slice of bread and grate the cheese on top. Place in a broiler for a few minutes until the cheese is melted and browned lightly. (yum!)
Or, you can do it my way:
Enjoy!
*WARNING! I only know how to cook to feed small armies. This will make almost two gallons of soup, so make sure your fridge is cleaned out, or adjust the proportions a little.
**I have made a wonderful vegan version using olive oil spread in lieu of butter and either beefless broth or mushroom base, and since I find veggie cheese a cruel joke I just omit it.