Cooking w/ kids!
I love doing things that get kids in the kitchen and helping out.  Kitchen independence is a great skill for all children that can carry them into adulthood.  Both of my parents and all of my grandparents were excellent cooks, and they had their own ways of teaching me things that made me love cooking today.
When I was The Kid's age and my parents were still married my favorite Friday night ritual (much like
BSR's
) was making homemade pizza together.  We used to make our own dough, grate our own cheese and make everything from scratch.  Afterward my Daddy and I would pop corn in our air popper (I so need to get one of these) and we would watch Star Wars together (go fig, huh!).
When I was a little older and one of my dad's sisters used to watch us on the weekends my cousin and I got to make English Muffin Pizzas for dinner.  This was a faster way of keeping the same tradition to me.  I have also found that it is a pleaser when entertaining children (or hosting Brotherhood events) b/c everyone gets to choose their favorite toppings and create their own masterpieces.  So, w/o further ado:
English Muffin Pizzas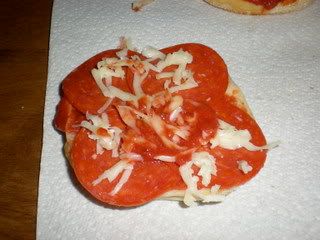 You will need:
Pre split English Muffins, 1-2 per person.  The good kind w/ the nooks and crannies in them.
1 block Mozzarella cheese, grated (which is a fun food prep activity for young helpers).
1 can pizza sauce, or you can make your own.
An assortment of toppings, including pepperoni, fresh pineapple, cooked bacon, fresh mushrooms (sliced), and anything else you can think of.
Preheat your oven to 375 degrees F.
Spread sauce over each half of the English Muffin, and top any way you see fit.  
Bake on a pizza stone (or other pizza pan) for 10 minutes, or until the cheese is melted and slightly browned.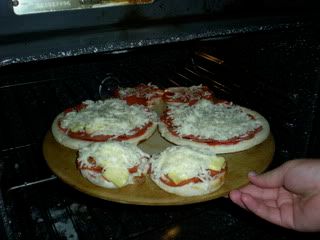 Allow to cool for younger mouths.  You can also substitute pre-made crusts (like Boboli) for larger versions or older crowds.