It's so funny that Sarah just commented on
my last cooking post
as I was getting ready to post another!
Tonight the boys are all out at a friend's house gaming, but since The Kid and I had a nasty cold (read as she had a cough and gave me the nasty cold...*grumbles*) I didn't feel right being around our friends' young children.  So, Kid and I stayed in and had a night to ourselves!
We decided to make a house fav, which is easily made in about 10-15 minutes, and has steps where The Kid gets to help.  It only has about 4 ingredients!
So, w/o further ado...
Ranch Tortellini
You will need:
2-8.5 oz packages fresh tortellini, found in the refrigerator section at the store.  They come in many varieties, and tonight we chose 1 package spinach and cheese and 1 package chicken and prosciutto.  When I feed the whole house I double everything (at least, I really have a hard time cooking for small amounts of people).
1 cup Hidden Valley Ranch Dressing.  Do not be fooled by inferior Ranch dressings.  I am a Ranch dressing snob...and HVR is the originator of the Ranch shenanigans.  
1/4 t crushed red pepper (more or less to taste).
Parmesan cheese for grating.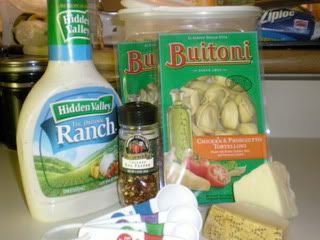 Bring a large Dutch oven or kettle of water to a rolling boil.  Salt the water after it boils (optional).  Boil the pasta for about 2-3 minutes or until the center of the filling is hot.  It is fresh pasta so it won't take long.  It should all float when it is finished.
Drain well.
In a bowl combine tortellini, dressing, red pepper and mix gently yet thoroughly.  And if you get some on you, The Kid knows how to handle that.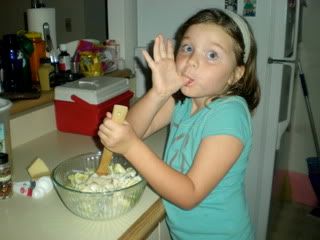 Spoon onto plates and grate the cheese over the top.  
Tonight I enjoyed mine w/ a nice cheap and fruity pinot grigio, and The Kid had a fine Limeade.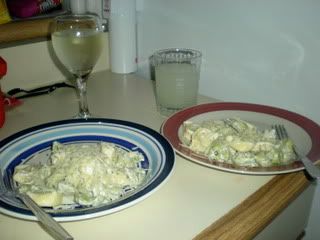 This is a real house pleaser, even for my folks in Readerland who claim they hate Ranch Dressing (yeah, Brain Spider, I'm talkin' to you!).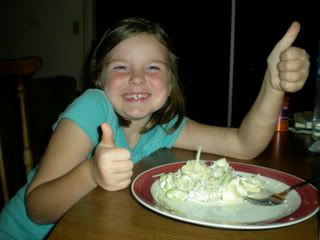 If you want you can add well drained and sliced roasted red peppers or chopped artichoke hearts (the hot pasta will warm them up).  You can also add a protein of your choice if you use all cheese tortellini.  We have used grilled chicken, smoked sausage, or Italian sausage.  All yummy choices.
Enjoy!
As a random thought, I have a cute book ripe for scrapping and I am thinking of making a cookbook out of it, especially since I get so many nice comments and ravenously hungry boys begging for my cooking (hey, when we go out I never pay for drinks b/c of my awesome cooking!).  It would be nice to have something to pass on to The Kid someday when she is ready to be an independent chef!