It took me a little longer than I wanted to get back to posting more pictures!
We moved into our new villa at the end of February.  It's really nice, and in a brand new building, so we are the first people to live in the place.
All of the appliances are brand new, and here is The Guy being excited about our fridge.  It has one of those cool doors where you can put the frequently used items and just open the little part to get it out instead of opening the whole fridge.
The Kid hanging out in the living room.  The place came mostly furnished, so we have new furniture.  Whatever we didn't have we borrowed from the Army, like a bed for The Kid and a dining table.
The Guy in our kitchen, trying not to blow us up.
That is our gimchi refrigerator.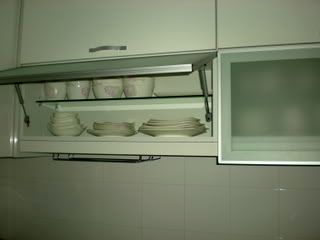 It came stocked w/ dishes, too!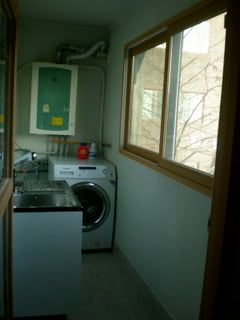 Our laundry room, b/f they installed the drying rack.  That is a super energy efficient washer/dryer combo.  It only takes four hours to do a load of laundry!  It's our new favorite hobby!  Also, all of the appliances are in Korean, so it took a while to figure out how to set them.  We are getting the hang of it.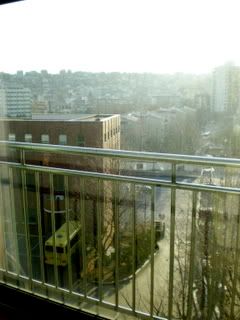 This is some of the view from our place.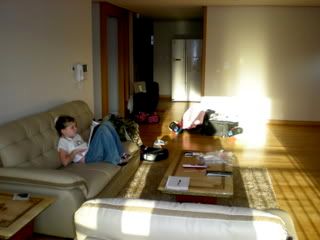 The Kid still the living room, from the other end.  There is all of the luggage!
The living room.
The Master Bedroom had a bed, and they threw in a bedding set for us to use.
Our closet has tons of space...this is only one half.  It spans the whole wall!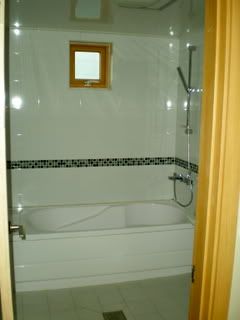 Our giant whirlpool bathtub.  I haven't had a tub I can lie down in for so long!
My favorite feature.  The bidet.  The seat is always warm!  What a nice treat for a bad fibro day!  Plus, it sprays water on you when you hit the button.  It rocks.
Here is the first meal we had in our place.  We hadn't yet gotten our ration card, and hadn't been able to use the commissary, so luckily the PX food court had some stuff we could take home.  We usually make much better meals, but we had to make do for a few days.
In an effort to keep these shorter, I will post some from our first trip out later.  Also included are some of our first meal cooked in the place.
Hope you enjoyed this peek at our new home!
OYD out.