*Deep relaxing breath*
It feels as though we have been living in hotels forever (actually it has been about 7 weeks, minus our stay at VBFitU's and my Grandparents).  To say what a relief it is to finally be in our own home, our first one as a single family unit, is about the understatement of the year (now, it IS only March).
We finally moved in last Friday, but it didn't stop then, oh no!  We moved into a brand new building, mostly furnished, yes, but we also didn't have a single thing you need in a home (and I am not just talking about the person who sneaks in and magically makes your bed every day).
But I am getting ahead of myself.
Korea is beautiful.  The people I have met are warm and friendly, and really really love kids.  Our experience so far has been that Koreans really take the "It takes a village" sentiment to heart.  Everywhere we go people fawn all over The Kid.  They hug her and say hi, bring her candy, teach her phrases (and laugh and smile when she repeats them).  Cab drivers are really patient w/ her, people at stores are always trying to help her.  One other mom I met told me that people offer their seats on the subway to her children.  This is by far the most kid friendly place I have lived.
The first day we arrived, after our 14 1/2 hour plane ride we pretty much just crashed in the hotel room.  We didn't wake up until housekeeping knocked on our door.  After breakfast we found that the hotel had a nice playground in the courtyard.  I also could not believe that it was so warm.  In February there was no snow, and we were fine w/ just our coats (and most of the kids ditched those after running around a bit).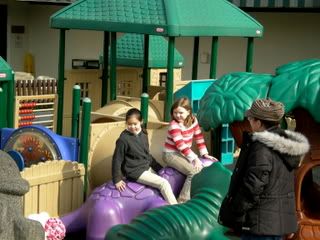 Of course The Kid made a friend right away.  It was kind of funny, b/c this girl is actually about three years older than The Kid.  Kid is So Tall!  She is wearing a 10 right now!
Yeah, yeah, Kid, I see you.  LOL.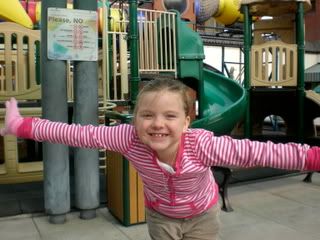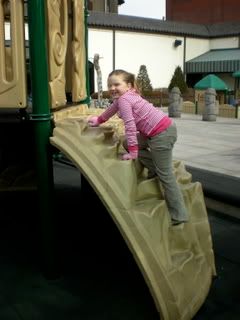 She started school a few days later, on Valentine's Day.  The Corpsman in Hawai'i who read her PPD didn't record it in her record and she ended up needing a new one.  That delayed school about three days.  But she started, and hit the ground running.  She reports to me that while she misses Ho'ala "so much", she thinks her new school is great, but her teachers are not nearly as cool as Desi or Barbara.  :)
The Guy?  He is in gimchee heaven.  The photos alone can not do justice to how extremely happy he was to experience his favorite food in the country of its birth.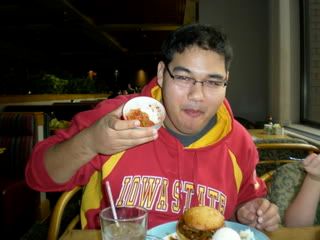 To be honest, the stuff is growing on me.  Best advice for gimchee enthusiasts:  don't eat it by itself the first time.  Have it w/ a mouthful of rice or meat, like Bul-go-gi.  The meat is seasoned kind of sweet, so the spicy and fermented flavor compliments it.  And store it in the most airtight container you can find!
Our first weekend out of the base we went to the I-Park Mall, which is enormous.  It is seven floors w/ an Imax movie theatre at the top.  I have to say that Korea goes to great lengths to make everything look happy and cheerful, so I couldn't resist snapping a picture of this candy store.
The mall itself is pretty impressive.  They have indoor and outdoor event centers.
Here is a quick shot of
Yongsan Station
.  It connects the Subway and the Commuter Train.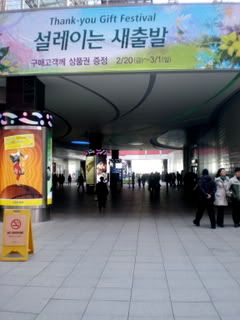 The public transit here is amazing, and incredibly affordable.  Even the cabs are really inexpensive, w/ the most we have paid being about 5,000 Won, which is a little more that $3.00.  You can also get public transit, or "T" cards which you just swipe in cabs, on the busses or the Subway, and if you pay monthly or more you can pay cheaper fare.
The city is beautiful in its own way.  I have never lived in a city quite like Seoul, which I imagine must be a little like living in New York.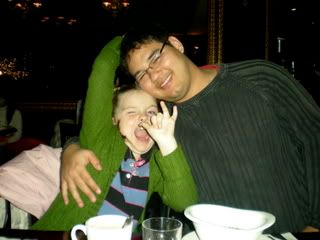 That's all for now.  I have a few chores to get done while the house is quiet.  I should get around to posting about house hunting and pictures of our new home today!
OYD out.