No, it didn't snow here last night (thank the 12 gods!), but when we woke up this morning it was raining harder than I have ever heard it rain since we have lived here in all of our three years.  It was pouring so hard!
We were almost to the highway ramp when the school called to tell us that there would be no school today.  As it turned out, we were all at home today for a nice lazy day.
The first thing that The Guy and The Kid did upon getting home were to get out of their respective uniforms for some fun in the rain.  Now, it might not snow here, but there was a nice deep rain filled back yard for them to run around in.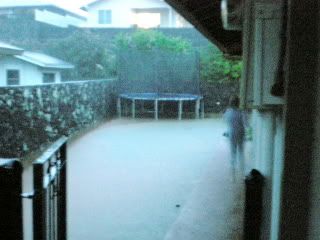 That blur is The Kid, b/c w/ the rain, the early morning light (it wasn't even 0700 yet), and her running and splashing, it was hard to get a good shot.  Fifty feet from the car and she was soaked to the skin in her PE clothes.  There was so much water that the bottom bars of the trampoline were submerged.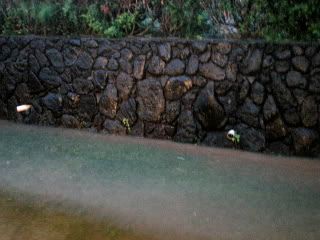 The way the roads and houses are set up here they have drainage areas to allow for this type of thing, but you get a lot of water built up, b/c we are simply not used to this much rain at one time.  You can see the rain covering the grass here.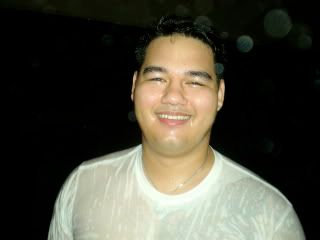 *swoon*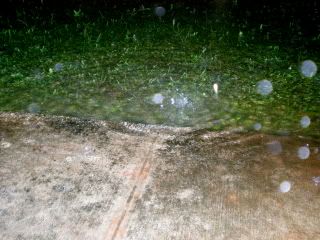 The water washed right up onto the patio, which has about two or so inches b/t it and the lawn.  The ripples hit the water like there is no difference.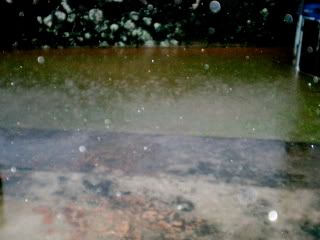 Again, it was raining pretty fiercely, so it was hard to capture.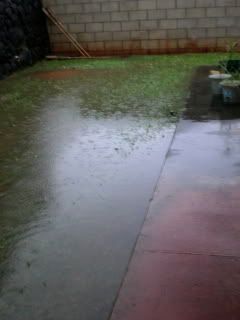 By the time we had lunch, the flood had receded, but the lawn stayed pretty squishy.  We have had two hurricane warnings since I have been here, but never rain like this.  I guess we can safely say the rainy season is here!  We did manage to use this time to get a lot more of the packing/repacking finished.  Wow, is there a lot to do!
Malama Pono!