Some glimpses of our winter holidays!
Our Yule: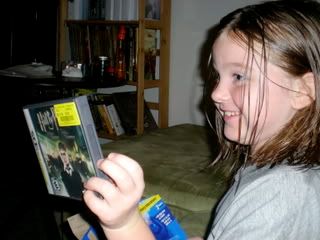 I didn't get a chance to thank Desi for wrapping that one for us b/f sneaking it into the house.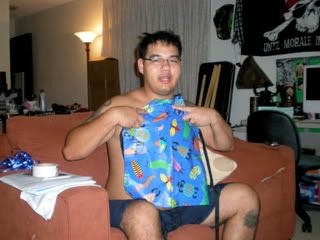 I am not sure that apron fits you, my dear...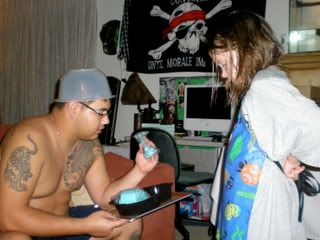 I am suddenly rethinking allowing them to bake unsupervised...
Our Christmas Day:
We spent the morning sleeping in (!) and went to lunch w/ our friend, Mazeltov Cocktail, for our second annual Christmas Day Jewstravaganza, more commonly known as going to China town for really good Chinese food.  The place we picked this year was way better than last year.  People never cease to be amazed that The Kid can not only negotiate chopsticks but that she can do it left handed, and she did a beautiful job putting away some spring rolls and chow mien.  She has also developed a bit of a taste for hot tea.  I think she is going to like Korea.  Anyhow, it was also a nice chance to bust out my rusty Mandarin skills, and I managed to stumble through ordering!  Yay me!
After we took a nice walk through town, and got The Kid a Holiday Lei, since it was Christmas and the third day of Hanukkah.  
We got to watch them making lei for a while, which is always fascinating, since it is tedious handiwork.
Later we drove to the Aloha Tower marketplace, which was all decorated w/ lights, my favorite part of the year, and decided to stop by and check it all out.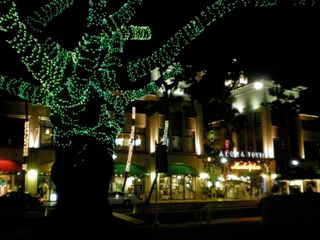 There is just something about lights at night that fill me w/ such glee.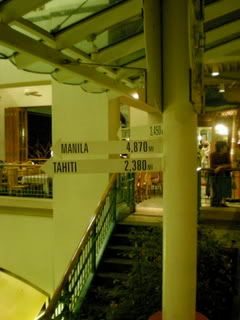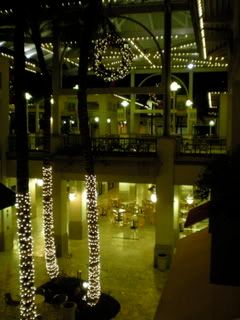 The Kid got to use one of those viewers to look out over the pier at the lights.
Inside we couldn't resist stopping by the tree in the center for some pictures!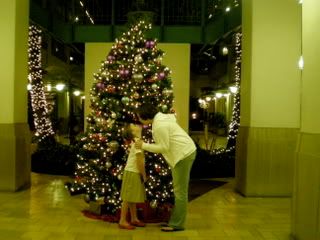 We finally tried out the timer on our camera!
We ended the night w/ a drive through Mililani Mauka to see all of the decorated homes, and there were some stunning light displays (and some not so stunning...lol...we made up our own grading system), and then went home to cuddle up for some games.  It's not too hard to find stuff to occupy our time w/ all of our stuff packed up and gone, even when the power goes out the day after Christmas!
That's all for now!
Malama Pono!