Stuff I didn't get posted after Thanksgiving Edition:
Here is an idea for leftover mashed potatoes (if you have them, we rarely have leftover potatoes):
2 C mashed potatoes (works best w/ real potatoes)
2 T all purpose flour
1 egg
mix until you can form patties out of it (like you would hamburgers).  You may also want to salt and pepper these to taste, or chop and mix in green onions.
Heat about 1/8 to 1/4 inch of oil in a skillet (cast iron works best if you have it), and fry each patty until golden brown on each side.
This makes a great breakfast.  The Guy and The Kid like them w/ a little cranberry sauce on them.  I prefer them plain w/ salt and pepper, or maybe some sour cream.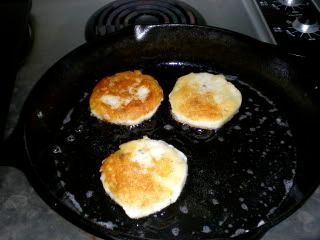 Have you ever fallen in love w/ cookwear?  I have, w/ my new DeMarle silicon and woven glass bake wear.  Here is The Kid w/ a friend of the family demonstrating it.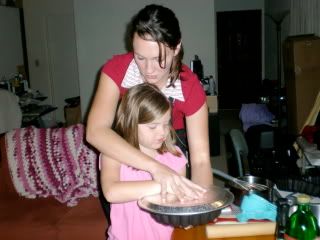 You don't grease or flour or anything, it just slides right.  It is the easiest stuff in the entire world to use, and I see all the chefs on Food Network use their stuff (they are the people who make SilPat) all the time.
It makes the best cake ever.  And I don't like cake.
/advertisement.
Not from Thanksgiving weekend, but here is a cute one of The World's Greatest Husband at his Hail and Farewell yesterday.  His division had a wonderful little luncheon for him.
The plaque is really cool, and will look nice w/ our shadow boxes and other awards on the wall of our new digs in K-town!
His reenlistment is this coming week, so there will be more fun Navy days ahead!  Woo hoo!
Malama Pono!