The Happy Feet Edition!
I love days when the whole house spends an afternoon doing things together. The Other David(tm) is going home on leave soon, and wanted to try out a pedicure.  The Guy and I swear by them, as he loves the salt scrub and pumice treatment.  We decided to go and dragged David along too.  I am really lucky to have such great roommates (and more lucky to be married to one!  Yay!)!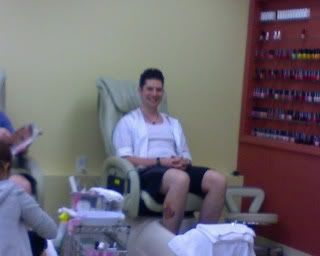 The Other David(tm) enjoying his first pedicure!
David got into the whole thing, and picked up some reading material (though I can't say I approve, it was good to see him enjoying himself).  This picture is for Sarah!
Let me just say I love this man.  Yes, a real man can totally relax and enjoy getting his feet taken care of.  You can't see the guy who was there w/ his wife enjoying his pedicure, but we actually had more men than women in there at one point!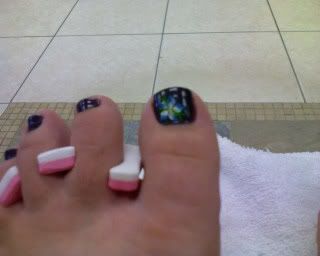 Not a great picture from my cell phone, but here are my happy pigs all painted up!  
The girls there just love doing the Guy's feet, probably b/c he always picks such random stuff for them to do.  Today it is orange and purple.  You can hear them across the room!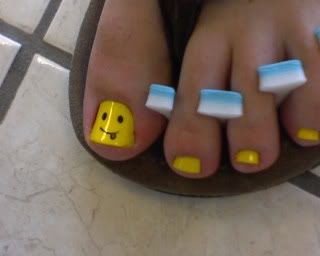 And while David was a big pile of no fun, the Other David(tm) wins for creativity today w/ his yellow smiley face toes!
So now that we are all relaxed we are going to watch Hellboy so that I can fully enjoy Hellboy II tonight, since I am unable to watch a movie out of order.  I have to see them in order!  Is that really so weird?