After a long grueling stretch of opening shifts The Guy and I decided to pack up some stuff for late afternoon snorkeling.  It seemed like a great idea, so we headed out to North Shore, and planned to go to Three Tables.  When we got to the strip of beaches they looked surprisingly full for so late in the day.  We just kept going up the shore headed north hoping for a less crowded area.  Eventually we ran out of beaches and wound up in Kahuku, which apparently is the Shrimp capital of the island.
Since I had never been that far up on that side of the island we kept going to see what we found.  The compass in the car eventually told us we were heading NE, and then E.  We ended up on a long stretch of the
Kamehameha Highway
that looked like it was literally the edge of the world.  We stopped off when we got to where you could see the
Chinaman's Hat
, which is a tiny island off the Kualoa Point, not too far from Kane'ohe Bay.  We also passed by a ranch that looks like it could be fun for a vacation when the Kid gets back, but we are also thinking of the Big Island for that too.
The Chinaman's Hat.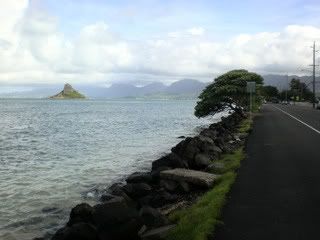 It seriously looks like if you veer too far to one side you could drive off of the world.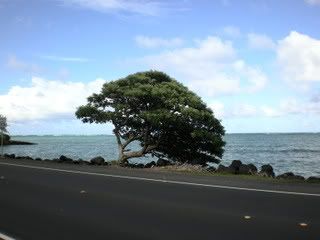 A tree holding on to the world.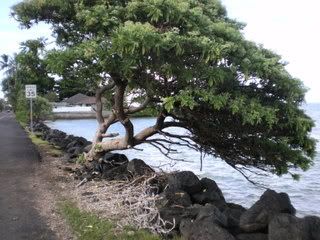 Closer too that tree, you can see it's roots.
Gettin' some sugar at the edge of the world.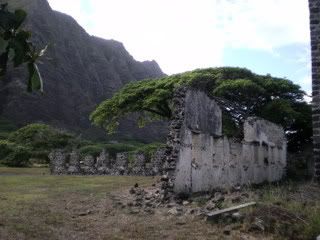 There was a ruined building w/ a large chimney at Kualoa Point.  I have no idea what it was, but I really love ruined buildings.  They look so tragically beautiful to me.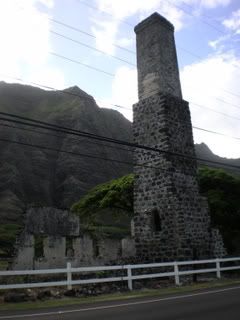 It is so tall, and right at the bottom of the mountain ridge!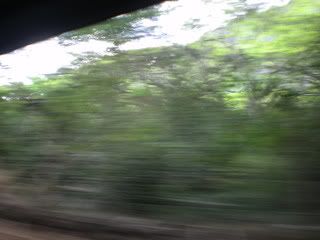 The Guy took a few moving shots from the road.
We could have kept going.  I have always wanted to just drive the Kamehameha all the way around and see the sights along the way.  If you are unfamiliar w/ the islands, the Kam splits the island basically 2/3 to 1/3.  Other than the
Pali Highway
, this might be my new favorite drive.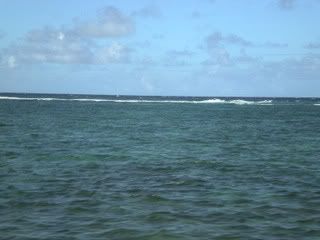 If I hadn't had such a craving for Rosie's Cantina's fish tacos back in
Hale'iwa
we would have kept going, but being as it was we decided to turn around and go back the way we came.  It was a little later, so we thought the beach would be out but as we got back to North Shore the beaches looked less packed, and we decided to snorkel anyway.  Besides, how cool would it be to snorkel w/ the perfect Guy at sunset in Hawai'i?
Too perfect to pass up.
After snorkeling, just before sunset.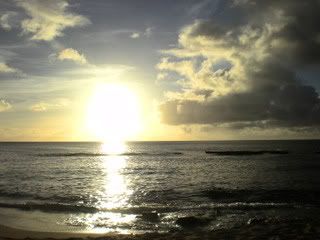 The Guy, oh how I love him.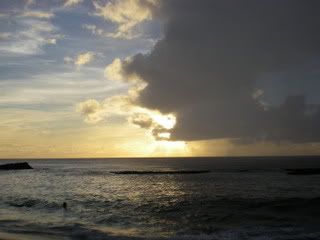 And here is a shot of that sunset just b/f it began to pour down rain.  Yup, that's Hawai'i.  You can be basking in the beautiful sun one minute, and running for cover the next.  This was actually a cold rain, which is odd, but it still felt pretty good.
We had dinner at Rosie's, and then drove home for some snuggles.  It is amazing to me that I can live in a place that is 80 degrees all year around but a little swimming and rain makes me shiver to my bones.  So we put on our sweats and watched a little TV.
Malama Pono!