I haven't been online a lot lately, but I did recently participate in an online Crop at
Serendipity Scrapbooks
.  It's my second one that I have done there, and it was just as fun as the first.  I didn't get to do nearly as much this time, which was too bad b/c there were tons of great challenges and I had approximately a nonillion ideas.  Some I am still going to finish b/c that is the only way to get some ideas out of my head.
This one was a challenge to do a LO in a circle that was not going to be mounted on a square.  It was so much fun and I am so pleased w/ how it turned out!  The phrase in the block amused me when I thought about how the Kid has changed the lives of these guys.  Someone at SS mentioned that this is in fact wall worthy...and I am inclined to agree!  I am going to find a way to make it sturdier and hang it on one of those plate racks.  I wish there were round frames...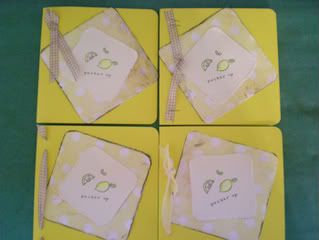 Here are some cards I did (you have to do four in a challenge if you are doing cards instead of a LO) where the main design had to be stamped.  I also "sugar coated" the bejeebus out of them for fun.
Last one I finished this time was a recipe...I had to use certain things.  It turned out cute...and I think it is going to be a gift for someone I know and love *coughVBFitU* but who shall remain nameless.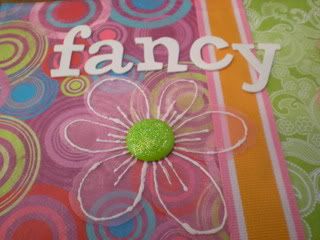 That is all.  I am working on a gift for someone right now, too.
Hope you are all well, Readerland!